How to organize great hackathons
Get the study based on data from hackathons in Belgium : 
130 events
50 examples
13 testimonials
85 pages
The FIRST Study about Hackathons
More than 130 public hackathons have been organized in Belgium since 2011.
Get our results after months of research, investigation and analysis, and find all the information about these events gathered in this unique study. 
Objectives for organizers & participants
Revenue models
for hackathons
Real case studies
& testimonials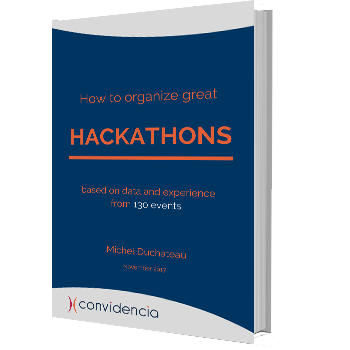 Ben Piquard – CEO LeanSquare – "Since 2010, I have really enjoyed taking part in these kinds of events because they are the roots of entrepreneurship."
Coraline Dethinne – Hackathon organizer at Sharify – "It is important to us that participants complete their entrepreneurs' journey with a hackathon in order to experiment their idea."
Anis Bedda – Transformer Chief at Transforma Brussel – "Hackathons are an extraordinary engine for ideation in co-creation mode."
By sending your email, you consent to receive extra information about free guides, tools, or products & services from Convidencia.